Eva is a Senior HR Manager at Trust Agents in Berlin and writes for her HR blog HRisnotaCrime.
What movie title best describes 2017 for you?
Your person of the year?
My Mum. She helped my Dad through a tough time and never forgot to take care of herself as well. She is the best and now also knows how to use a smartphone properly (to send gifs)! She's 72 and she's a great example on how you don't need a degree to be a smart and thoughtful person with the right set of values.
Your favorite album from 2017?
Tough one. Electronic-wise: Bonobo – Migration, Indie-wise: The National – Sleep Well Beast
Bonobo is super good for working or driving to a bar to see friends, because it brings you down in a certain way (so you can wind up in that bar again ;). Second one, because they're my favourite band for about 10 years now.
What are you most proud of this year?
That I managed the struggle of adjusting myself to a wholly different company culture than I knew before.
I worked in corporate structures for over 5 years in an expert-HR-role before I called it quits and started in an agency. Level up on speed, leading a team, developing an organization in – what felt to me – light-speed. I would lie if I'd say, that I wouldn't have had a tiny mental breakdown from time to time because of high expectations I put on myself.
But giving up was not an option, since this is what I was working for all those years: Having an impact, working closely together with people and management while being able to be my true self at work. When people told me that I do make a difference and that some things changed for the better since I joined — that made me proud.
What HR tool or trend disappointment you the most in 2017?
What really feels disappointing to me is, that everyone forces HR into a KPI-driven role but we only get the most disappointing tools. When it comes to HR admin, most of the tools still suck.
There are endless discussions in HR-communities about the best tool: There is none that doesn't contain a load of bugs – mostly when it comes to it's reporting functions. Bad reporting means that you're falling back to Excel again. Which is what you wanted to get rid off and why you purchased the tool in the first place.
And what tool or trend really did live up to the hype?
Funny thing: People Analytics. Everybody wants it and everybody needs it. Making the right decisions at the right time, this is what I want.
Analytics is a wide field. This is what it makes it that important: Engagement, churn, cultural fit, development… I am so keen on understanding what has the most impact on keeping people happy and healthy within my company. And data can help me on keeping track of certain developments. There are a lot of new tools right now. AI is doing it's thing, soon. We will see if this trend is becoming an HR theory – there's a lot of potential.
Your favorite HR blog in 2017?
German only, sorry: innenhui.de – it is an entertaining and smart blog. Dagmar seems to be a funny person. To me, she seems tough and proud while not making a big deal out of being a working mom and successful in her job. I have only met her once in person, but we kind of have the same sense of humor, I assume. Also, she draws the doodles for her blog herself which I think is supercool.
And the best HR event this year?
For me..so far…I think it was a meetup hosted by clanbeat, that took place during NOAH conference. I expected a bit of input about giving good 1on1 feedback and the usual sales-part for their product.
What I got instead were 4 super intense hours in giving and receiving feedback with exercises, I never thought would be possible between strangers.
When was the last time you really listened 4 Minutes to an unknown person and being forced to keep quiet while the other tells you about some super-personal experiences?! It was just awesome and I had some magical moments there. The power of really listening and absorbing what was said, is huge. I was even able to comfort a person without saying anything.
I know this somehow sounds like a crazy story from a cult but i think it is just a great example on how small events and meetups can get a great dynamic and spirit when the right people are coming together. It doesn't always have to be the big shiny event.
Which GIF best describes your vision of HR 20 years from now?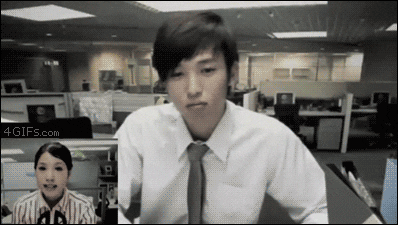 What should HR professionals do differently next year?
Talk to people more often, also outside of work. I love meeting new people and how hearing their stories broadens my own view or giving me other perspectives. I would say, that I do have a strong mindset, which is good to challenge from time to time. Otherwise, I get too self-comfortable.
What will be the "next big thing" in Recruiting?
Prematching from candidate-perspective. It is not the company anymore, deciding on who is a fit and who isn't. It will be the candidateitself, who will deciding if he or she is keen on working in a specific company. I think, there will be more transparency when it comes to job roles, salary and company culture. This will hopefully lead to more diversity in company culture. Not all candidates are happy with working from home or from cafés or on limited contracts. The 'startup-hype' is kind of over. People are unique and I hope, this will be embraced by future recruiting processes.